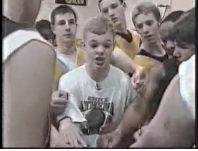 I pressed play not expecting much. Lots of "cool videos" are shared on facebook this time of year. When this one started out as news-y type clip I didn't realize how awesome it would end up. It seemed like just a cliche, "Sports are great for giving people hope" message, but I kept watching and I'm glad I did.
"After years of fetching water and toweling off other people's sweat, Jason was actually in a game…"
You gotta see what happened when he got his shot.
Press play to watch

Some players get a chance all game long to do what he did and can't do it. He gets his chance, with just minutes left and goes nuts. His team, the fans, just erupted.
Awesome.
Please share this!!!