Share this article: Click Here to Tweet
I'm so excited! I just got my prize package from "The Box Jumper," Ryan Moody. He had a photo contest recently for which I submitted this picture of my son "doing" a box jump and won.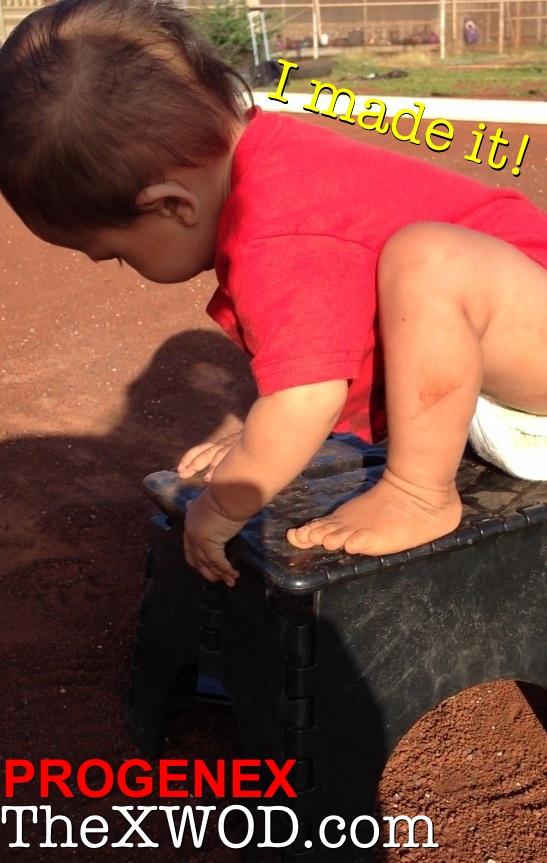 Now, unless you're a CrossFitter, you may not know who Ryan Moody is. Ryan, aka
The Box Jumper
and creator of the
XWOD
, is known for his Explosive Training Seminars. He's been to Hawaii a few times and is coming back in October. I really hope my family can make it!
I love Ryan, not only because he offers great training for athletes and is good at what he does, but because he's a great coach who's truly into helping others get better. Some coaches hold back when coaching others because they want to stay better than everyone else. Ryan will give his best even if it means that the athletes he trains end up performing better than him. In my opinion, that's the sign of a great coach!
In addition, believe incorporating Ryan's XWOD components into training is useful for ANY athlete!
Granted, in softball we don't jump much. There may be that occasional high throw we need some air for or that line drive over your head that you'd like to snag to steal a hit. Other than that, there's not a whole lot of jumping in our game.
So what does jumping have to do with fastpitch softball?
Well, I recently heard training experts talking about this very topic. They said that any time you can improve your max jump, you also improve your SPEED!
Speed you say? Yes! Speed.
I don't know any softball player or coach who would turn down a little more speed!
If you've ever seen Arizona play (or any team with good speed), you KNOW that speed kills. It's highly useful on the softball field and can definitely make things happen.
Plus, a lot of softball power comes from the hips. Jumping power? Same thing. It's all in the hips. Get your hips pumping out more jumping power and guess what? You'll increase your softball power as well. Speed and power training, all rolled into one. Can't get much better than that!
If you ever get a chance to see Ryan in action, take it. He's travels quite a bit for sharing his Explosive Training Seminars. If you happen to find one near you, check it out. I think you'll love it!
Can't find a seminar near you?  No problem!
My friend Barry Lovelace, aka The King of Core, also offers training programs (delivered directly to you) that can help! In fact, he's coming out with a brand new DVD that's all about that explosive FIRST STEP, so super key in softball.
Even if you aren't the fastest on your team, having a great first step helps you make more plays on defense and win more bases on offense. While you may not stay at your top speed on the field too often or too long, almost every move you make on the field is improves significantly with a better, quicker, more explosive FIRST STEP.
Barry's new DVD shows you how to do just that.  As soon as it's is ready, I'll let you know!
For now, you can check out his other softball training programs including…
Core Power Training for Softball – tried and true program that helps you throw harder and hit farther after just 3 workouts. Get it
Softball Pitcher's Pop Training – create explosive power, increase MPH, and increase your pitching velocity FAST. Get it