This free 11-minute audio training including 3 simple tips to get more hits. These tips are entirely OFF the field tricks that ANYONE can do, anywhere, at any time.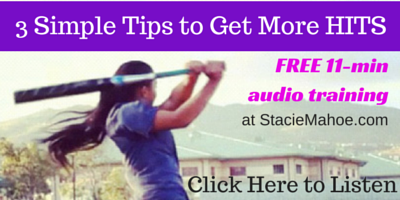 They're 100% free to do so there's really no reason for you
NOT
to use them to improve your hitting performance.
After all, you already know that softball is just as much a mental game as it is a physical one. In fact, some might argue that the mental side of it is even more important than the physical side. So lets take a few moments to talk about these 3 simple tips that can help you get more hits…

Download the audio
Share this article: Click HERE to tweet
---
The class I mentioned in the audio is ready 🙂



YES, Stacie! I'm serious about my goals.
People are constantly asking me, "8 kids? How do you do it? How do you accomplish so much?" Well, for the first time ever, I'm sharing 3 simple exercises I use every single day to help me take bigger strides and make faster progress with the goals that matter most to me.
Like any effective success tool or principle, this class can be applied to ANYTHING, including softball playing, softball coaching, or softball parenting.
I show you exactly how to do the exercises I use in this 1 week class AND I provide you with support along the way.