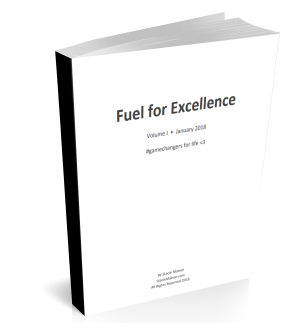 Bite-sized nuggets of inspiration for sports parents and coaches 🙂
W00t! Super excited to announce that this brand new e-book, Fuel for Excellence is ready to go.
This e-book contains a compilation of all the best, most inspiring, most thought provoking, most encouraging goodies I found, wrote, shared, consumed, digested, or stumbled across during the month of January 2018.
It's all put together in a very simple, easy to read, easy to print, easy to use and pass along format for you. You'll get 58 pages of fuel for your fire as you chase down your biggest goals and wildest dreams and/or help your child(ren)/team do so.
Over the weekend, I shared this e-book with a couple people and their feedback was immediately positive!
Coach Lori Cook Baird, literally, in just 8 minutes from receiving the e-book messaged me back to say, "Man, I've laughed and teared up like 10 times."
A few minutes later, "I'm in love with it so far!!!!!! It will speak to parents of kids all ages."
Coach Vinny Malts just skimmed it and quickly sent over a message saying, "Perfect and important nuggets for families to be mindful of."
That is what you get in this e-book.
Right now, you can get it at 50% off. It's yours today for just 5 bucks –> Buy Now
Enjoy!
P.S. – Please come back here and leave a comment to let me know which part first really grabbed your attention and held onto your heart for a moment. I'd love to hear from you. You can also message me on Facebook or email me 🙂
1. Buy your copy HERE
2. Download immediately after purchase (keep your browser open!)
3. Check your e-mail for purchase confirmation (click the link in that e-mail to also receive the download link in your inbox)