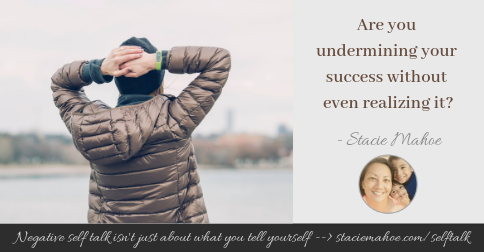 Click to Tweet: Share this Post
Negative self talk isn't just about what you tell yourself.
It's also encompasses what you ask yourself too …
Why does this always happen to me?
Why can't I catch a break?
Why can't I get this?
Why didn't I think of that?
Why do I keep missing the ball?
Here's the thing. Your brain is like google. When you ask a question, it tries to find answers, which means, whether you intend to or not, you start focusing on it.
AND if what you focus on expands, if what you dwell on is what you experience more of … do you really want to focus on "this" always happening to you? Do you really want to focus on the fact that you can't catch a break? Do you want to stay focused on not being able to "get this?"
I think you get the idea.
But the super cool thing is, you can flip this and allow it to work for you. In other words, learn to ask better questions so you can get better answers and start focusing on those better answers instead 🙂
If you're a parent or a coach, here are some questions to consider in regards to this concept …
What have you been modeling to your children/athletes?
AND
What kinds of questions are you asking in your interactions with them?
#askbetterquestions #getbetteranswers 😉
Click to Tweet: Share this Post
—
Did you enjoy this quick tip? Get more in our Facebook group or get on the VIP list to get tips via email.