Feel like you got too much to juggle?
Stay on top of the game with softball coaching cheatsheets!
Aloha Coach!

In my first year as the head coach of a competitive team, I remember what I headache dealing with parents and "administrative" tasks were. A handful of parents think they can run the team better than you. Another bunch thinks their daughter isn't getting a fair shake.
There are logistics to think about, stats to keep, paperwork to be done, all while trying to help a group of young ladies become successful on and off the field. Plus you probably have a day job and maybe even a family to take care of full time too.

That's a LOT to handle! I get it. Believe me. I don't work outside the home, but I have 8 kids, run websites, and help manage some Facebook groups. I understand wearing many hats :)
Softball season can get crazy and it's very easy to get off track and waste valuable time.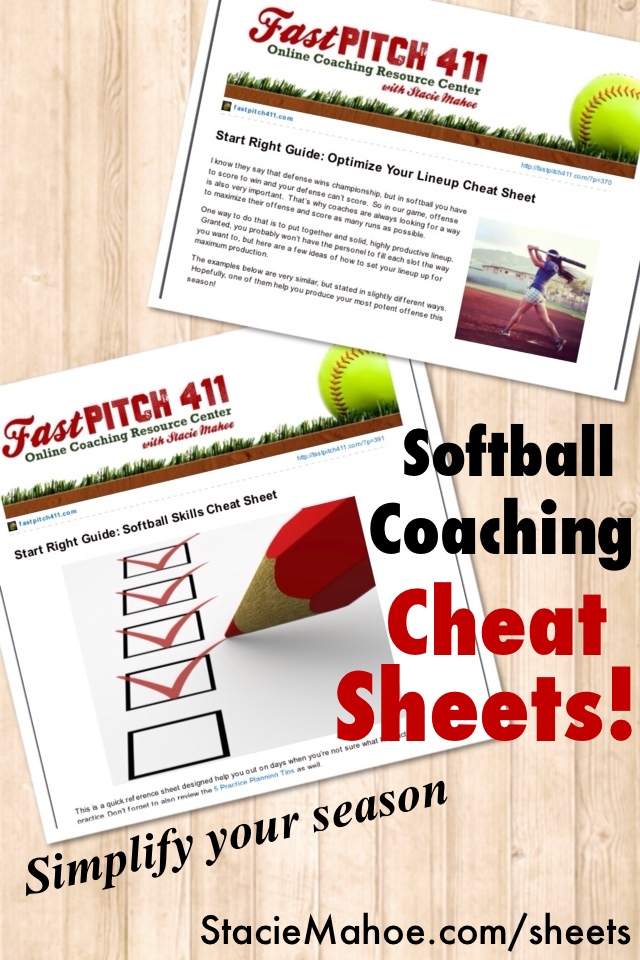 That's why I want to help take care of some of the basics for you. Get 13 Softball Coaching Cheat Sheets to...
make your coaching life easier

help you plan effective practices

take some of the load off your shoulders

provide you and your staff with clear concise resources and guidelines to refer back to

help you make better coaching decisions

easily collaborate with your coaching staff and come up with strategies and plans that work

help you figure out what next step will help your team the most

help you make sure nothing important falls through the cracks

and a whole lot more!

Plus I'm including 2 coaching checklists to keep your season running as smoothly as possible.

When you're in charge of a team full of young ladies, all kinds of "fun" issues can come up. These checklists help ensure you're prepared for anything!

Believe me, I've seen and been through a bunch of them! Over the years, I put together a useful list of essentials to bring along everywhere we go.

These essentials help you put the small fires before they turn into full blown emergencies that hamper team performance and negatively impact the outcome of a game.

Click here to get your cheat sheets

Bonus Goodies!

Yes! There's more.

I have a few more other things to help you out this season...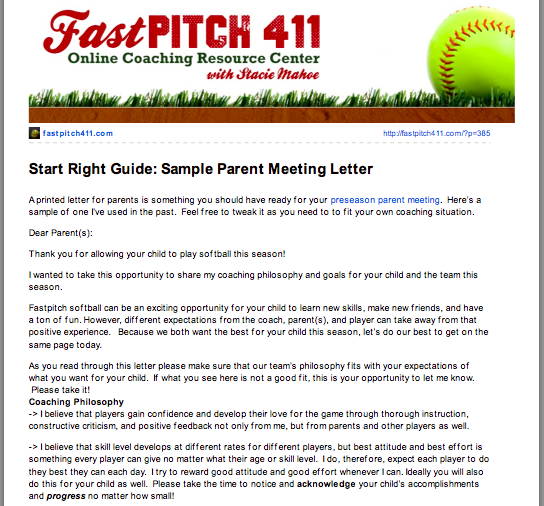 BONUS #1 - Sample Parent Meeting Letter: this is an actual parent letter that I've used in the past. No need to re-invent the wheel! Use this letter to get ideas on what to include in your letter.
This is especially useful if you want to have a parent meeting but aren't entirely sure what you should cover. OR simply use it to improve upon what you already have.

BONUS #2 - Sample Practice Plan: flying by the seat of your pants at practice is never a good idea. You don't get as much done and it crushes your credibility as a coach. You need your players to trust and believe in you. Nothing is worse than standing around after a water break while the coaching staff tries to figure out what to do next.
It's always much more productive and effective to have a plan. It's even better to have this plan laid out in writing so you and your staff can refer to it during practice and keep things moving!

You'll get a sample plan that I actually used in my own practices.

BONUS #3 - Sample Practice Plan Template: this is a Word document you can save to your computer. You can edit it to create your own custom plan for practice. It's all set up for you, just drop your information in the slots, save, print and you're ready to go!
Buy today and get INSTANT access to: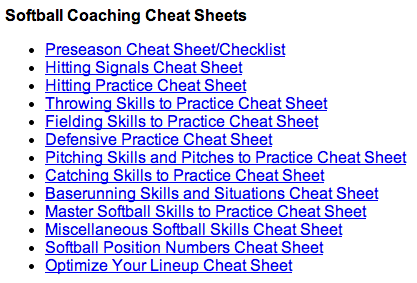 ---> 13 cheat sheets

---> 2 checklists

---> and 3 sweet bonuses
For a total of 18 softball coaching resources!
If that's not enough, I also give you 10 different ways to use these cheat sheets, plus ideas on how to use them before the season, how to use them during the season, and how to use them in collaboration with your staff!

Regular Price: $24.95
Pre-Season Special: $17
To your ultimate softball success,




Stacie Mahoe