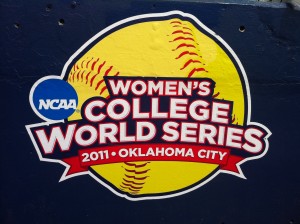 After the 6-5 game earlier in the WCWS between ASU and Florida, I for one, was NOT expecting a blowout in Game 1 of the Championship Series.  I also did not expect to hear that Florida players were "roasting" the umpires after the game.  I did not personally get to see what was said.  However there were quite a few people commenting on it on twitter.  One person even mentioned the possibility of fines for it.
First of all, I can see mentioning not getting some calls, but nothing more.  Anything above and beyond that means that you're not focused on the most important thing…YOU.  Only can't rely on umpires to make your bid for the championship work out.  You CAN look at what you did (or failed to do) and what you can do differently next time to increase your chance of success.
Second, how much of an impact can umpires have in a 14-4 loss?  I don't like to blame umpires for games, but my daughter was in some pretty bad ones this weekend.  Still, in a game they lost just 2-1, there were a LOT of things they could have done better to make sure it didn't come down to umpire calls.
Moving on…
Now we all know, Florida can hit.  I'm looking for a better showing from them today.
Dallas Escobedo, however, is quite an effective pitcher.  She's already pitched successfully for the Junior National Team.  She's doing an excellent job as a freshman at ASU.  I never saw her pitch before last night.  I was actually quite surprised.  She stays pretty closed through her pitching motion.  It's amazing how hard and effectively she throws like that.  That's a situation where, although mechanics may not be ideal, you don't go in and mess with it!  You just take what she has and what she does and help her accentuate her strengths while minimizing any weaknesses she may have.
I'm looking forward to seeing tonight's game and I'm hoping this series goes to a Game 3!
How about you?  Who are your rooting for?  Do you think Florida can recover?
photo credit: Gary Leland, Fastpitch.tv