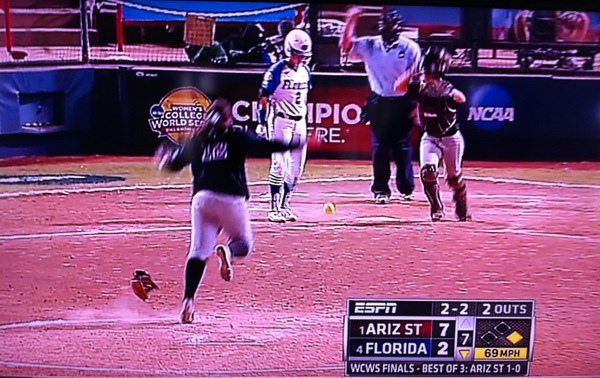 Well, ASU did it and did it in dominating fashion. They captured the 2011 WCWS Championship in a 2-game sweep of the Florida Gators. I didn't get to see all of Game 1, but from what I did get to see of Game 1 and Game 2, ASU played like they expected to win. Florida was there physically, but they never really looked in control of anything.
I'm a tad bit disappointed that this series didn't go to three games, but mostly because I just wanted to see more softball. Honestly though, this Championship Series was almost anti-climatic after all the great games leading up to it. Still, hats off to ASU.
Now I've never seen Dallas Escobedo in a bad situation, but one thing I like about her is that she looks the same all game long. I'm not talking about her pitches, but her facial expressions and her body language. First inning, last inning, just walked a batter, just struck someone out, doesn't matter she looks the same. I like that.
While Florida pummeled Alabama to get into the final, they really didn't mount much of an offensive threat at all against ASU. Some thought they were still getting a bum deal from the umpires. I really didn't see that. Bottom line is ASU put up points and did what they needed to do to keep Florida's scoring to a minimum. Period. Congrats to ASU for winning the NCAA DI WCWS!