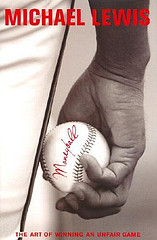 I just got an invite to attend the advanced screening of "Moneyball" and I'm planning to go. I heard about the book this year and thought it would be interesting to read. However, I'm quite a bit behind on my reading for the year, so it's sitting at the bottom of a list of books I want to read.  Since I haven't gotten around to reading the book yet, I definitely want to see the movie. It's about baseball, it's about a book I want to read, AND Brad Pitt is in it which pretty much makes this a no brainer. lol
I know it's kinda cheating to see the movie instead of reading the book.  I also know that movies are rarely as good as the book they're about, but I rest assured, even if I watch the movie, I still plan to read the book eventually.
If I do actually make it to the screening, I'll definitely let you know what I think.
Have you read the book? If so, how did you like it? Let me know.