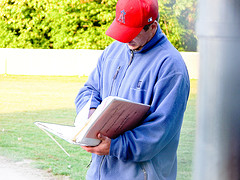 I first heard about core values a few years back. Then I also heard other experts talk about non-Negotiables and things you do not compromise on as a softball coach.
This made a lot of sense to me and I was glad to hear that having non-negotiable values in my mind was not unreasonable and actually characteristic of a good coach.
Do you know what your non-negotiables are? Do you know what principles you stand on? Processes change but principles shouldn't.
What things are absolutely not allowed on your team?
What things are absolutely required of members of your team?
Have you ever thought about these issues?
I'll give you an example – never, at any time in the team environment, is it acceptable for a team member to swear at other team members, coaches, opponents, umpires, or fans. Period. This is simply not an appropriate choice, ever. No exceptions.
This is an example of a non-negotiable, a standard that never changes.
So think about it for a second.
What's non-negotiable for you? What are the principles you stand on and base decisions off of?
Having a concrete idea of these principles and values helps take the guesswork out of some of the decision making that will come your way.  These are especially useful for some of the tough calls you'll have to make as a coach.  Don't settle.  Don't compromise.  Stand strong on what's gotten you this far.
If you want a smoother running season, it really helps if these principles are clearly communicated from the beginning – with your coaching staff, with your players, and even with your parents if you are coaching youth softball.
Take Action Now
List 3-5 things you consider non-negotiable this year.  Communicate them with your coaching staff and start emphasizing these areas with your team so they know exactly what's expected.