I totally agree with Coach George Raveling here…
Changing your mind is one of the best ways to find out if you still have one.
Too many people get stuck thinking you "can't" make different choices after you've already made one. Or that you "have to stick with it" because you made a particular choice.
So many of choices we turn into "forever" choices are not actually forever choices. You CAN make another, different choice if something's not working!
You CAN change your mind.
I've changed my mind many times. Most long time softball instructors will tell you they no longer teach what they used to teach 5, 10 years ago.
Why?
Because you learn, you grow, you get better, and you leave yourself room to improve and make adjustments along the way. You change your mind.
Only when you change your MIND can you change your LIFE!
That's also how you inspire change in others 🙂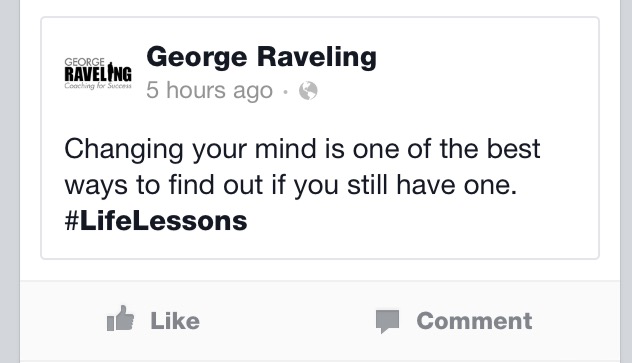 Want to practice thinking like a champ? Check this out – click here