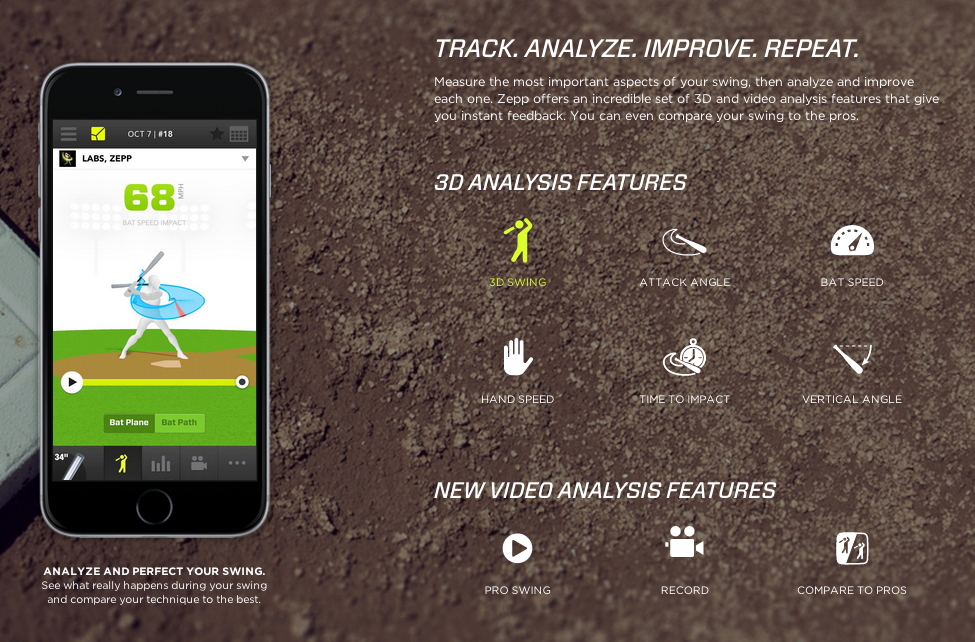 click image to enlarge
This is seriously THE coolest softball toy I've seen ALL year! Measure the most important aspects of your swing in REAL time as you do it.
No more buying software to install on your computer.

No more running out to buy a video camera to carry along with you to the field.

No more waiting until you can get video footage onto your computer to run software against to get measurable feedback on your swing.
Get instant feedback on your swing: hand speed, bat speed, swing path, time to impact and more.
Gosh, today's players get all the fun stuff!
I would've LOVED to see these stats and analysis of my swing as a player.
Any time a player can see performance results for themselves, it's so much more effective than hearing the same input over and over and over again from a coach or parent. The better a player understands what's going on when they perform a movement, the better.  Zepp allows you show them exactly what's going on in their swing!
Plus, there's the fun factor.  I know competitive players love seeing if they can "beat themselves." This tool allows players to see progress and compare numbers as weeks go by. Any tool that makes training fun and ignites that competitive spirit in athletes will boost results. Period.
AND it's bound to score some "cool coach" points right?  I mean really, a wireless sensor-y thing that zapps info to your handheld device and gives you information via an app?  That totally speaks this generation's language!
For parents: I know you only want what's best for their child.  Unfortunately, sometimes the "help" parents give (like taking their daughter to the batting cages for hours upon hours every week) isn't all that helpful.  I think Zepp is an excellent training aid for parents who really want to help their daughter get better results on the field.  Instead of working on what you *think* your daughter needs, use REAL data to help her make the most of the extra time she's putting in!
Zepp takes a lot of the guesswork out of the equation for you and helps…
Build a short efficient swing

Hit more line drives

Stay long through the zone

Add bat speed and power to your swing

Develop quick hands
For coaches: Here's what some fellow coaches said about this crazy cool toy in the Softball Group on Facebook…

Another coach said: "In my short time of using, 2 hours tonight. I am sold. Data storage is one thing….bat speed, hand speed, etc….

The video analysis feature allows for unlimited instructor / parent to hitter communication. You can either Auto Play your video or use the slide feature to advance / rewind your video to explain dropping hands, drop back shoulder, open from shoulder, etc…

I would recommend using an iPad due to better video. But my iPhone 5 has allowed me to explain a few things to my daughter in a few short minutes that we have been working in for the past 2-3 months.

The ability to store your data in a calendar setup allows for a quick glance to see progress over time.
Yes, I am sure there are other devices or methods available. But for $149.00 it is well worth the money. Especially when you can simply purchase other holders and use the sensor for other sports."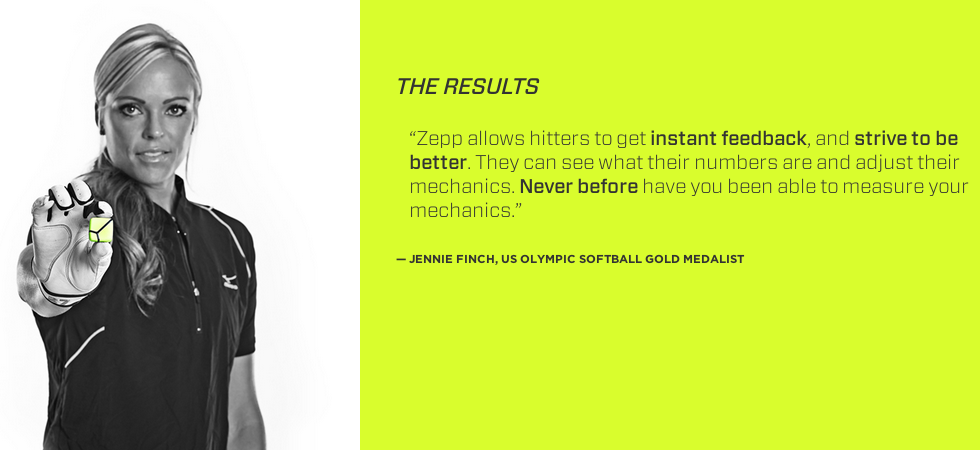 click image to enlarge
Honestly though, if I had to choose just ONE softball hitting aid to get for the upcoming season, it would be this one.
Take it anywhere you go.

Get softball swing analysis, instantly, in the palm of your hand.

Use real data you can  to train smarter, measure progress, and evaluate how effective your hitting practices are!
You gotta admit that's pretty cool and you can use it over and over and over and over again. Learn more about Zepp here.
*disclaimer: this post contains affiliate links.  If you purchase Zepp through these links a portion will come back and help support this site.  If you prefer to hop directly over to Zepp without supporting this site, you can do so with this link: https://www.zepp.com/softball/why/
Either way you go, this is still a super cool tool to have!