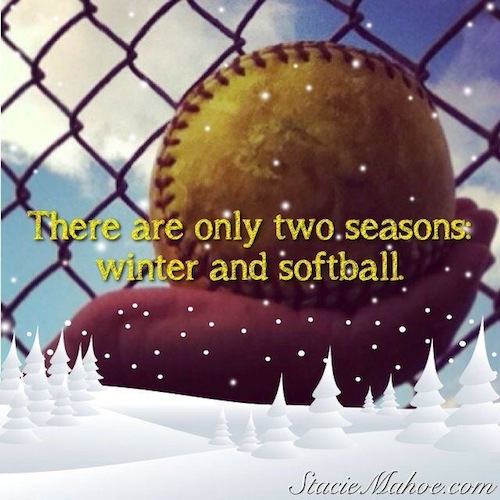 In some places, like Hawaii, there's softball and…well, softball. But even in warm weathered states it's a good idea to take a break every once in a while.
Many fastpitch softball coaches and parents think players will get better and improve if they just keep playing as much as they can.  Or they feel like their player(s) will fall behind if they take a break while others continue training.  What they don't realize is what it's like for their child or their players to continuously spend hours and hours and hours every week at the park.
I've seen too many good fastpitch players, reach the age of 14 or 15 and just have no spark, absolutely no spring in their step, because they are just tired and worn from all the softball they've been playing.
Many fastpitch softball fanatics say things like…
"Softball is my life"
or
"Eat. Sleep. Breathe Softball."
I love the sayings.  They conjure up exciting feelings!  I also love the game as much as the next softball-aholic, but, please, don't take these quotes too literally.
Granted, softball does sometimes feel like the only thing in life and you may very well feel like you eat, sleep, and breathe it.  However, the truth is, there's SO much more to life than softball.
Do your daughter a favor and help her experience ALL of it! It's awesome to have great softball experiences, but it's also invaluable to have wonderful LIFE experiences. So over the course of this year, after the fast and furious pace of the season is done, remember to help your daughter find a good mix where she gets the MOST out of softball AND life. 🙂
If you like this post or this softball image, please feel free to share it with others!