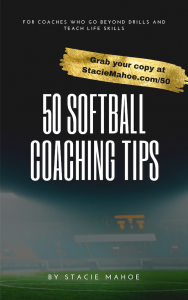 Share this post! Click here to Tweet 🙂
When I wrote this e-book, it was with you (and all the coaches like you) in mind. It's for the coach that go beyond the skills and drills and teach LIFE skills that are so essential to the long term success of our children.
It's for the coaches who understand the importance of coaching the WHOLE person, not just the athlete.
It's for the coaches who take the time to look beyond the surface and into the human being behind the "strong arm" or the "quick feet" or the "big bat" or that "smooth glove."
This e-book is for coaches who's impact lasts well beyond the last out of the last inning.
I hope this small token supports you, encourages you, and lifts you up as you do the ever so important work that you do within our community.
Enjoy!
https://staciemahoe.com/coachingtips.html