Share this article: Click Here to Tweet
I made this after my 13-year-old daughter lost her championship bout at the Ringside boxing tournament in Missouri this summer.
She fought hard. She did well, but she didn't get the decision.
She was mad at herself. She knew how long and how hard she trained for this, she thought about how badly she wanted to win, how often she envisioned herself succeeding at this event, and was frustrated because she came up short.
She's already thinking about preparing for next year and training for her next fight.
I'm convinced the only thing tougher than enduring a "failure" like this is seeing your child go through it!
I thought this message was perfect for the situation. May it encourage you or someone you know 🙂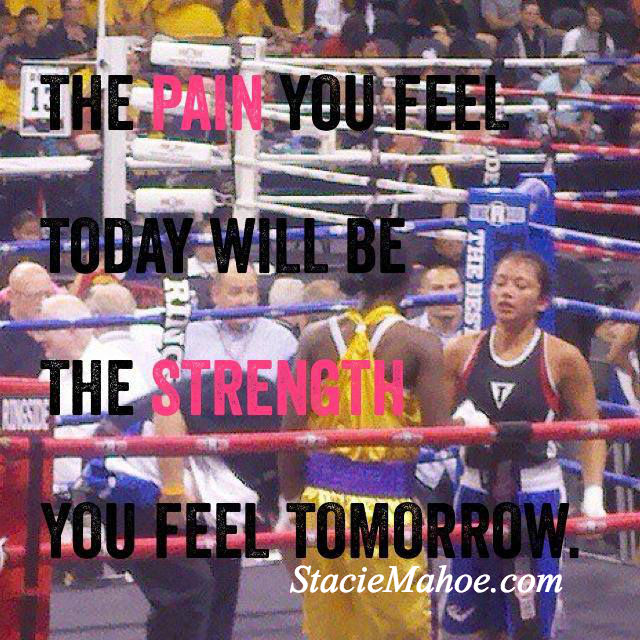 Embrace it. Feel it. Then let it fuel your growth into something bigger and better than you were without it.
EDITED TO ADD: after this experience, she went on to try wrestling for the first time as a freshman in high school. During the season, she injured her shoulder due mostly to her inexperience against varsity level athletes. After wrestling season she was given the option to have surgery on her shoulder. She consulted with the surgeon and he agree to allow her to try therapy first. She REALLY wanted to go back to this boxing tournament that summer and win the title. She didn't let injury, a less than ideal training period (due to working around the injury), nor news of recommended surgery stop her. She had made up her mind that she was going to go back to Missouri and become a Ringside Boxing World Champion, and so she did.
The year after that, my other daughter (2 years younger than this one), made the trip to MO by herself after going with her sister the past 2 years. She had lost her semifinal match both times. As we dropped her off at the airport for that 3rd trip to Missouri, someone told her to remember to bring something back. She replied, "I am. I'm bringing back the belt." And she did.
Share this article: Click Here to Tweet