I've been a little MIA because my daughters just competed in their very first CrossFit competition on the Big Island of Hawaii this month. Our whole family trains at Kapolei Strength and Conditioning. My kids absolutely love CrossFit so they jumped at the chance to compete.
We signed them up for this particular competition because CrossFit AllStar offered a "scaled" women's division for this event. Even though this still meant competing against adults, it allowed them to participate in a division where competitors used lower weights/modified exercises. As teens who barely weigh 100lbs, they're not quite strong enough to go up and up against adult women competitors in the "open" division with the regular "prescribed" (Rx) weights and exercise movements. They may get there one day, but for now, this "scaled" division was perfect for them.
My oldest was 16 years old on the day of the competition (weighing around 100lbs) and had been doing CrossFit for about 4 months. My other daughter was 13 years old (weighing in at around 106lbs) and has been CrossFitting for 7 months. Yes, my 13-year-old is bigger than her older sister.
In training they take turns "beating" each other in workouts. Sometimes my older daughter does better, sometimes the younger one does. It just depends on the workout (and which one is having a better day). Even their max lifts are pretty close, so we were excited to see how they'd do in this competition.
There were 15 women in the division and they came in 6th and 7th, so not bad at all 🙂 see full results from the competition here
Our 13-year-old placed higher in each workout and, therefore, in the competition overall. Not exactly what I expected, but that's the awesome thing about competition! On any given day, you just never know what's going to happen. Big sis has vowed to win next time though. We'll see what happens! lol
Anyway, here are some pictures from that day.
Enjoy!
Allie (13) doing the rope climb in WOD2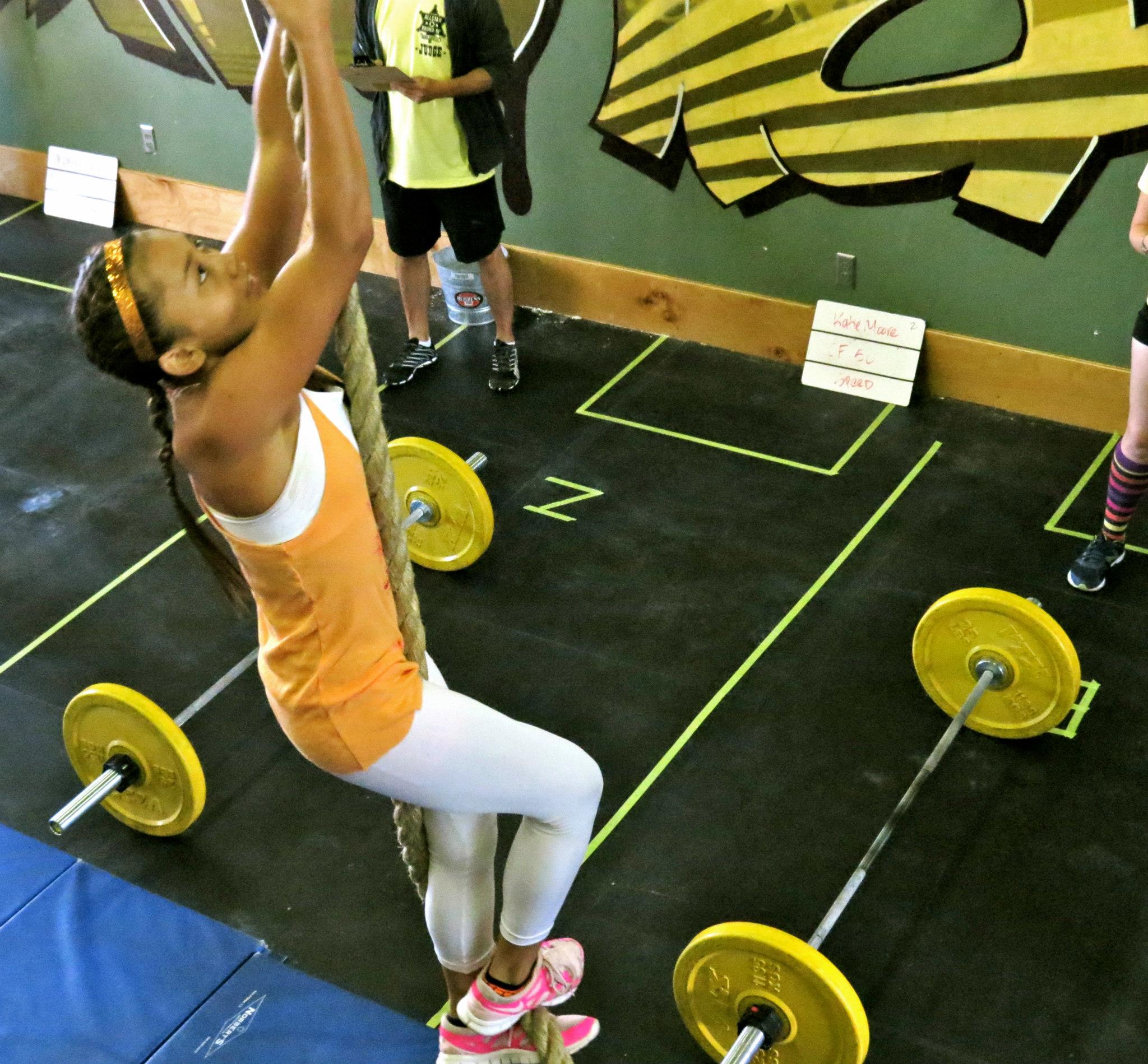 Stacia-Al (16) doing the rope climb in WOD2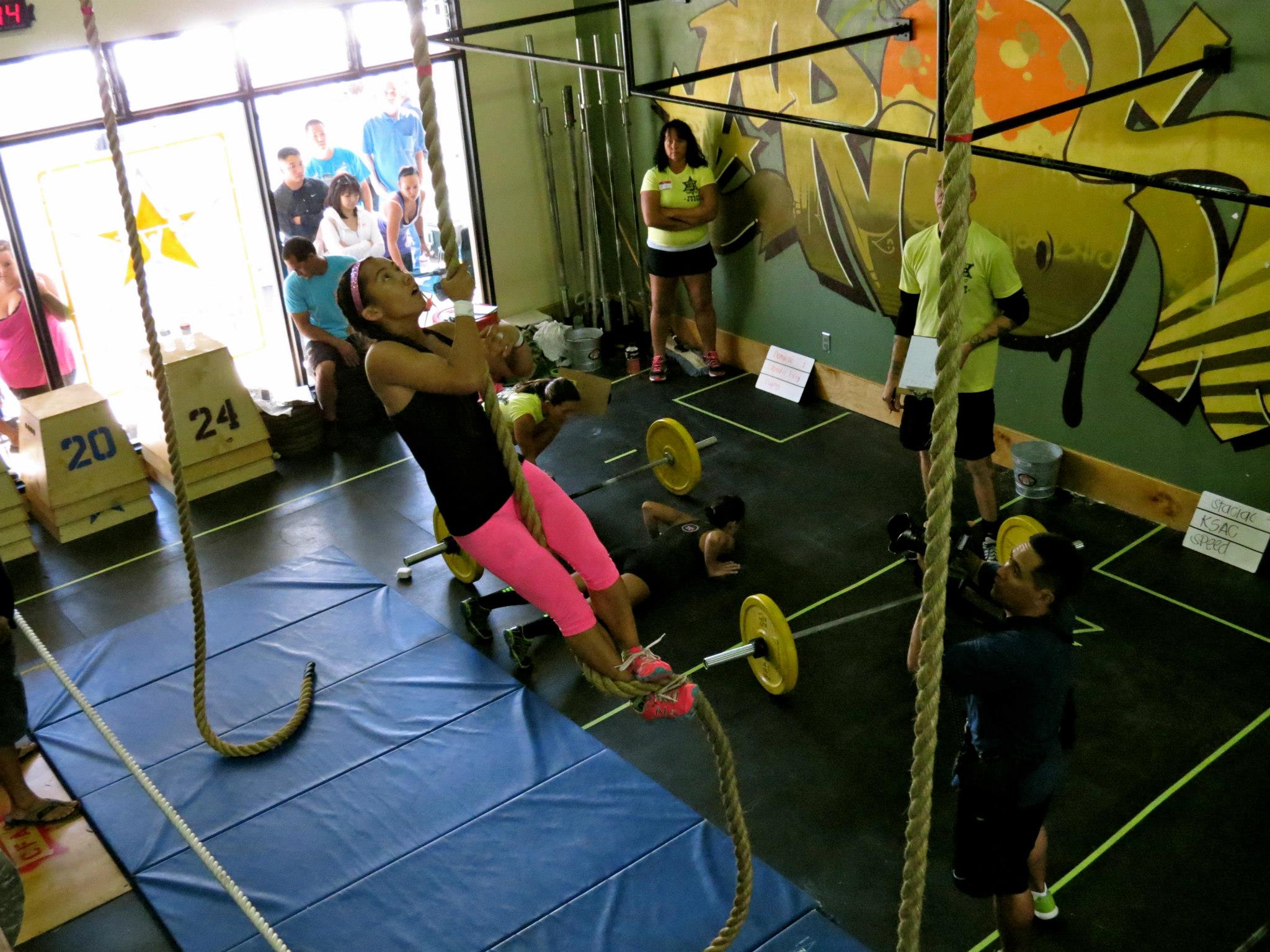 Allie (13) doing an 85lb power clean in WOD2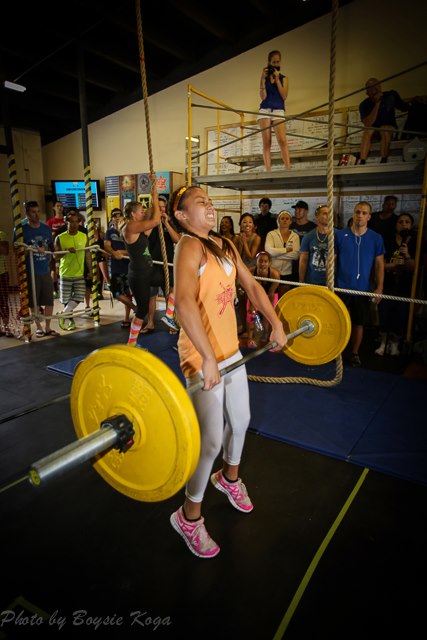 Stacia-Al (16) doing a 65lb sandbag carry (200m) in WOD2

Allie doing "Fran"

Video clips of Stacia-Al